Description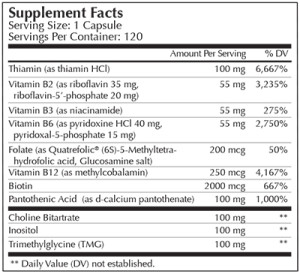 The combination provides the critical B Vitamins in their bioavailable (easy to absorb) forms ensuring their immediate absorption into the bloodstream. This family of vitamins is critical to most metabolic reactions in the body including amino acid metabolism, neurotransmitter activity, detoxification and overall immune support. Because B Vitamins are water soluble and therefore do not remain in the body so a regular daily supply is necessary. Certain metabolic imbalances, diseases and conditions may flush them out of the body in quantities that create deficiencies. Our Select formulation is designed to address symptoms of modern metabolic imbalances.
Usage: 1 capsule per day or as directed by your healthcare professional.
Storage: Keep out of reach of children. Store sealed in a cool, dry place.
DISCLAIMER: These statements have not been evaluated by the Food and Drug Administration. This product is not intended to diagnose, treat, cure or prevent any disease.
Other Ingredients:  Cellulose (capsule), dicalcium phosphate, L-leucine, silicon dioxide.