Description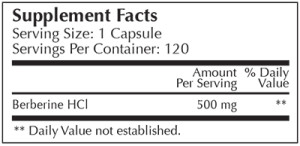 Berberine is a substance derived from Phellodendron amurense but also found in the well known goldenseal root. Berberine has been know to have antimicrobial effects against E.coli and Clostridium  plus other bacteria. Have been shown to  help in the regulation of glucose in the body and in helping the liver metabolize sugar more effectively.
Also very beneficial for digestive infections and improving gastrointestinal function.
Usage: 1 capsule with food, 2 or 3 times per day or as directed by your healthcare professional.
Storage: KEEP OUT OF THE REACH OF CHILDREN.
Keep tightly capped and store in a cool, dry place.
Warnings: If taking medication consult a physician before using. Do not take if pregnant or nursing. Not for use by children under 12 years of age.
DISCLAIMER: These statements have not been evaluated by the Food and Drug Administration. This product is not intended to diagnose, treat, cure or prevent any disease.