Description
One of the best Multivitamin Supplements preferred by many healthy practitioners.. Higest quality and bioavailability. Containing many substances found in food.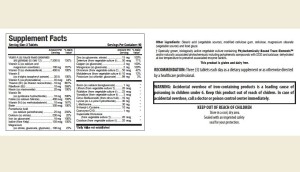 This formula containsa small amount of iron as seen in the ingredient label.
Dosage: 3 a day
DISCLAIMER: These statements have not been evaluated by the Food and Drug Administration. This product is not intended to diagnose, treat, cure or prevent any disease.