Description
This product offers two forms of calcium which ensure maximum absorbability and efficacy: calcium bonded to malic acid and calcium bonded to glycine. Malic acid is produced in our bodies in the Citric Acid Cycle and in vegetables and fruits, especially apples. Glycine is also innately produced in the human body, synthesized by the amino acid serine. The process of chelation forms covalent bonds between the calcium ion and the malic acid and glycine so the calcium has a neutral charge and a smaller molecular weight so it is better absorbed in the intestine.
Usage: 2 capsules per day or as directed by your healthcare professional.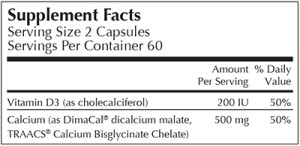 Other Ingredients: Cellulose (capsule), vegetable stearate, silicon dioxide, leucine, microcrystalline cellulose.
AlWAYS KEEP SUPPLEMENTS OUT OF REACH OF CHILDREN.
Keep cap on tight and keep products in a dry and cool place.
Precautions: If taking medications, nursing or pregnant, consult a physician or qualified health professional before taking.