Description
CoQH Select™ from Moss Nutrition offers advanced CoQ10 support with CoQH-CF™ ubiquinol-a researched, patent-pending formulation that blends absorbable, activated Kaneka QH® ubiquinol with alpha lipoic acid, d-limonene and capric/caprylic acids for enhanced stability
CoQH is recommended for people who are taking statins or medications to reduce cholesterol levels because of the depleting effect these medications have on Coq10 levels in the body. C0QH has been used by health practitioners cardiovascular support as in high blood pressure and a weakened heart. But because of it's antioxidant effects it has been used to support the central nervous system , the brain in cases of Parkinson's disease, Alzheimer's and other related neurological problems.
DISCLAIMER: These statements have not been evaluated by the Food and Drug Administration. This product is not intended to diagnose, treat, cure or prevent any disease.
Recommended Usage: 1 softgel per day or as directed by your healthcare professional.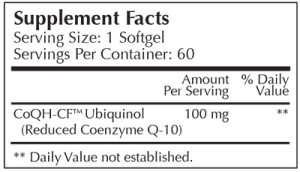 Other Ingredients: D-Limonene oil, gelatin, glycerin, purified water, caprylic acid, capric acid, caramel liquid, alpha-lipoic acid.
Storage: Keep out of reach of children. Store sealed in a cool, dry place.
Warnings: If taking medication, pregnant or nursing consult a physician before using.