Description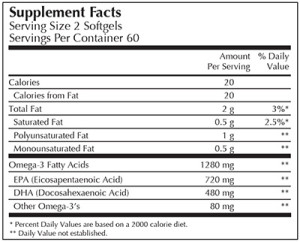 High potency EPA and DHA essential for many functions in the body including: memory, blood pressure control, inflammation, and cholesterol levels. EPA/DHA HP Select contains the highest potency of Omega 3's so essential for health.
EPA/DHA SELECT HP is a higher potency, pharmaceutical grade product made from the naturally occurring triglyceride form in which fish oils are found in nature. This form offers superior absorption rather than the processed ethyl ester found in most commercial fish oils. Our formulation also includes the enzyme lipase for advanced fat hydrolysis that offers a greater absorption of the beneficial oils. The oils used in our formulation undergo molecular distillation, a process that removes even the slightest trace of toxins. This exceptional formula meets international standards for purity and has a nice lemon flavor.
Usage: 2 capsules per day or as directed by your health care practitioner
Other ingredients: Omega-3 triglycerides, gelatin, glycerol, natural tocopherols, water, lipase, natural lemon flavor. Contains fish (anchovies) and non-GMO soy (natural tocopherols).
DISCLAIMER: These statements have not been evaluated by the Food and Drug Administration. This product is not intended to diagnose, treat, cure or prevent any disease