Description
Glucobalance is a dietary supplement formulated by Dr Jonathan Wright MD and Alan Gaby MD to help support people with problems with glucose control. Contains all the nutrients necessary to regulate glucose (sugar ) in the body. Many people waste their time buying individual nutrients for Diabetes support such as chromium, vanadium, gymnema. This formulation contain all the nutrients needed and known to help in the body's metabolism of glucose.
Glucobalance is a complete multivitamin that should be used by any person with Diabetes or Hypoglycemia.
Ingredients: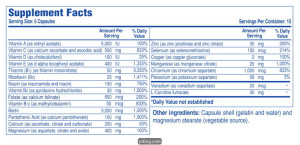 Dosage: 6 capsules a day or as recommended by a Qualified health practitioner
DISCLAIMER: These statements have not been evaluated by the Food and Drug Administration. This product is not intended to diagnose, treat, cure or prevent any disease.