Description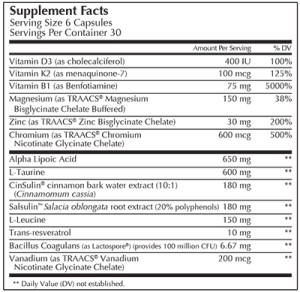 Glycemic Select™ offers targeted micronutrients and advanced specialty ingredients to help support a healthy glycemic response. This clinician-designed formula contains vitamins, minerals and researched nutritional ingredients such as alpha lipoic acid, cinnamon and resveratrol that have been studied to help support metabolic balance, promote healthy insulin sensitivity and reduce the accumulation of pro-inflammatory advanced glycation end products (AGEs) in the bloodstream, a common result of high levels of circulating blood glucose.
Great to help support Diabetes in maintaining healthy sugar levels.
Other Ingredients: Cellulose (capsule), microcrystalline cellulose, vegetable stearate, silicon dioxide, acacia, inulin
DISCLAIMER: These statements have not been evaluated by the Food and Drug Administration. This product is not intended to diagnose, treat, cure or prevent any disease..