Description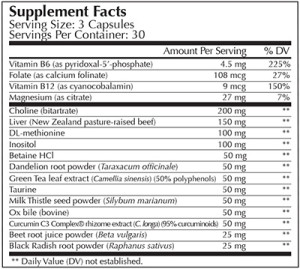 Hepato Detox Select is formulated to help the liver stay healthy, promote liver detoxification and prevent fat from building up. May also help reverse fatty liver in conjunction with a healthy diet and life-style. Promotes a healthy liver and gallbladder. By keeping a healthy liver …blood can be kept clean also and problems such as fibroids, fibrocystic breast and other female problems prevented. Ingredients found in HepatoSelect can also reduce homocysteine levels in the blood. Homocysteine is known to cause cardiovascular disease.
Usage: 3 capsules a day or as directed by a health care practitioner.
Other ingredients: Rice flour, gelatin (capsule), silica
AlWAYS KEEP SUPPLEMENTS OUT OF REACH OF CHILDREN.
Keep cap on tight and keep products in a dry and cool place.
Precautions: If taking medications, nursing or pregnant, consult a physician or qualified health professional before taking.
DISCLAIMER: These statements have not been evaluated by the Food and Drug Administration. This product is not intended to diagnose, treat, cure or prevent any disease.