Description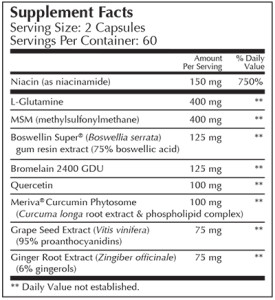 InflammaSelect is a wonderful formula to help any problem that involves inflammation. InflammaSelect may help support conditions such as arthritis, joint problems, muscle pain, muscle injury, back pains, knee pains in combination with a healthy life-style and exercise.   InflammaSelect is composed of natural enzymes and herbal supplements that reduce inflammation in the body.
Usage: 2 capsules 2 times per day between meals or as directed by your healthcare professional.
AlWAYS KEEP SUPPLEMENTS OUT OF REACH OF CHILDREN.
Keep cap on tight and keep products in a dry and cool place.
Precautions: If taking medications, nursing or pregnant, consult a physician or qualified health professional before taking.
DISCLAIMER: These statements have not been evaluated by the Food and Drug Administration. This product is not intended to diagnose, treat, cure or prevent any disease.