Description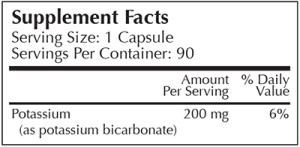 Potassium is such an important nutrient in the prevention of chronic disease especially cancer. Chronic disease is characterized by an acid environment with the presence of inflammation.
Potassium bicarbonate being alkaline addresses the acid environment in conjunction with the loss of potassium that takes place during inflammation.
Other Ingredients: Cellulose (capsule), silicon dioxide, L-leucine.
K Alklaline may be beneficial and supportive in :
Cancer
High Blood pressure
Inflammation
Arthritis
Osteoporosis
Other chronic disease
Usage: 1 capsule per day or as directed by your healthcare professional.
Storage: KEEP OUT OF REACH OF CHILDREN. Store sealed in a cool dry place.
DISCLAIMER: These statements have not been evaluated by the Food and Drug Administration. This product is not intended to diagnose, treat, cure or prevent any disease.