Description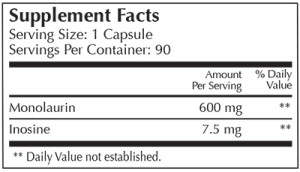 Ongoing research since 1966 has found monolaurin (also known as glycerol monolaurate) to be highly effective against enveloped RNA and DNA viruses and gram-positive bacteria as well as some yeasts and molds. It also has been shown to inactivate certain gram-negative bacteria, notably Helicobacter pylori.
The mechanism by which monolaurin is believed to exert effectiveness against pathogens involves its ability to solubilize lipids and phospholipids in the microbial coat, helping to disintegrate this protective envelope. By acting as a lipid membrane perturber, monolaurin enables the immune system to gain access to a pathogenic organism's interior contents and helps inhibit microbial replication and colonization by preventing the binding of pathogens to host cells. Monolaurin has been researched in vitro and used successfully in clinical practice for more than four decades.
Beneficial to Support especially for Hepatitis C.
Other ingredients: Hypromellose (capsule), vegetable magnesium stearate, silicon dioxide.