Description
Lipid Select is a perfect formulation for those wanting a product to support lower cholesterol and triglyceride levels. Many people have elevated cholesterol levels even. though they may be eating a healthy diet.  This is due to the fact that the live is over-producing cholesterol.
Lipid Select has the necessary ingredients to prevent over-production of cholesterol and maintain healthy cholesterol levels.
Recommended amount: 2 capsules a day or as indicated by your health care professional.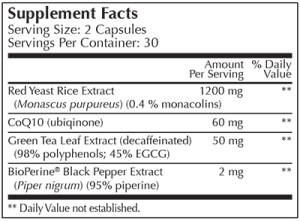 Other Ingredients: Hypromellose (capsule), microcrystalline cellulose, vegetable stearate, silicon dioxide.
BioPerine® is a registered trademark of Sabinsa, Corporation.
AlWAYS KEEP SUPPLEMENTS OUT OF REACH OF CHILDREN.
Keep cap on tight and keep products in a dry and cool place.
Precautions: If taking medications, nursing or pregnant, consult a physician or qualified health professional before taking.
DISCLAIMER: These statements have not been evaluated by the Food and Drug Administration. This product is not intended to diagnose, treat, cure or prevent any disease.