Description
Lipotrienols RYR is a powerful combination of natural substances designed to provide nutritional support for cardiac and vascular health. This formula includes high delta-fraction tocotrienols, organic red yeast rice extract (Monascus purpurea), and lycopene with added lecithin for bioavailability. Made with non GMO ingredients.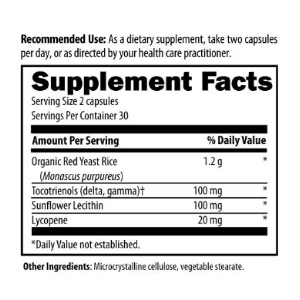 Recommended for  keeping cholesterol normal!
Recommended usage: 2 a day or as recommended my your health professional.
DISCLAIMER: These statements have not been evaluated by the Food and Drug Administration. This product is not intended to diagnose, treat, cure or prevent any disease.