Description
A Natural herbal combination for the elimination of bacteria, parasites, and for stimulating the immune system.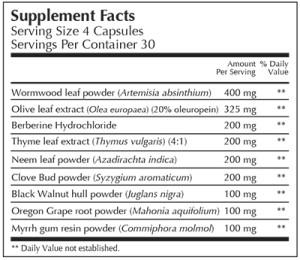 Usage: 4 capsules on an empty stomach, 2 to 3 times per day, or as directed by a healthcare professional.
Storage: KEEP OUT OF THE REACH OF CHILDREN.
Keep tightly capped and store in a cool, dry place.
DISCLAIMER: These statements have not been evaluated by the Food and Drug Administration. This product is not intended to diagnose, treat, cure or prevent any disease.