Description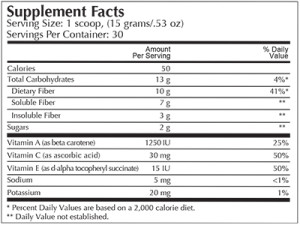 Profiber Select should be a part of every colon cleansing and detoxification support program. Profiber may be beneficial for those suffering from constipation, irritable bowel syndrome, acid reflux (GERD), digestive disorders, migraines etc.  Profiber is NOT just a fiber supplement. It contains multiple types of fibers that have been found to have various effects in the body.  One of those effects is reducing cholesterol. It may also be part of a program to help resolve female problems due to excess estrogen or estrogen dominance.
Profiber Select contains all the necessary ingredients including probiotics to feed the cells of the colon and prevent, improve and maintain problems such as diverticulosis, colon cancer, colitis,
Profiber Select should be a part of any program for weight loss since it accelerates the transit of food through the digestive tract while reducing the amount of sugar entering the bloodstream.
Usage: Mix 1 scoop (15 g) with 8 oz. of chilled water or beverage of choice, or as directed by your healthcare professional.
Ingredients: Fiber blend (maltodextrin, oat fiber, polydextrose, acacia gum, purified cellulose, inulin, cellulose gel, guar gum, fenugreek fiber, citrus pectin, apple fiber, barley beta glucans), cane sugar, citric acid, natural flavors, medium chain triglycerides, soy lecithin, beet juice, lactobacillus acidophillus, stevia leaf extract.
Does Not Contain: Gluten.
Manufactured in a facility that processes milk, soy, eggs, nuts and wheat.
AlWAYS KEEP SUPPLEMENTS OUT OF REACH OF CHILDREN.
Keep cap on tight and keep products in a dry and cool place.
Precautions: If taking medications, nursing or pregnant, consult a physician or qualified health professional before taking.
DISCLAIMER: These statements have not been evaluated by the Food and Drug Administration. This product is not intended to diagnose, treat, cure or prevent any disease.