Description
Prostate Select is a formula that supports prostate gland health. It maintains normal and  healthy free testosterone levels and reduces  estrogen levels that increase the size of the prostate.  It also provides nutrients necessary for a healthy prostate. Maintains a normal functioning libido and reduces the symptoms of an enlarged prostate gland such as : frequent urination especially during the night, decreased libido, recurrent infections.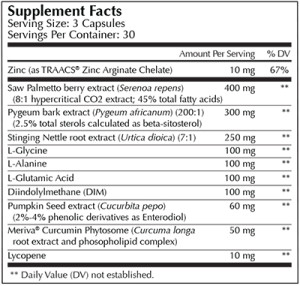 Usage: 3 capsules per day or as by your healthcare professional.
Storage: Keep out of reach of children. Store sealed in a cool, dry place.
Warnings: If taking medication, pregnant or nursing, consult a physician before using.
Other Ingredients: Hypromellose (capsule), microcrystalline cellulose, vegetable stearate, silicon dioxide.
Contains soy (curcumin phytosome).
DISCLAIMER: These statements have not been evaluated by the Food and Drug Administration. This product is not intended to diagnose, treat, cure or prevent any disease.