Description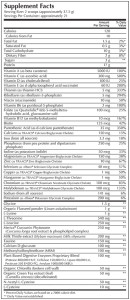 Select Cleanse is a combination of herbal and nutritional substances designed for supporting and improving liver detoxification and cleansing. The liver is one of the body's most important detoxifier and it has more than 500 fujnctions.
The liver detoxifies by chemical reactions and binding toxins with other substances. Select Cleanse provides all the necessary nutrients to support the chemical and binding processes. The herbal combination present in Select Cleanse help stimulate liver cell health and bile flow.  This is important since after detoxifying, the liver throws all these toxins into the bile and in the gallbladder.
Liver Detoxification is important in most chronic conditions such as obesity, inflammation, fatty liver, diabetes, etc.
Many times obesity may be caused by a burden of toxins . The body usually stores toxins in fatty tissue.  The more toxins, the more fat is produced by the body. This may result in a difficulty in maintaining normal weight. By helping in detoxification, the toxic burden is lifted and the body doesn't have to produce more fat. As a result, weight loss can be achieved more effectively.
Usage: Two scoops a day or as recommended by a health practitioner.
Storage: Keep out of reach of children. Store sealed in a cool, dry place.
Warnings: If taking medication, pregnant or nursing, consult a physician before using.
Ingredients: Yellow pea protein isolate (non-GMO), natural flavors (orange, vanilla custard, vanilla bean and French vanilla), tapioca maltodextrin (non-GMO), organic acacia gum, medium chain triglycerides, inulin, stevia leaf extract, xanthan gum. Contains: Soy (from phospholipid complex).