Description
Click Image to view large Label details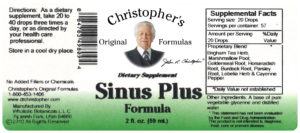 A synergistic blend of whole herbs to help support the sinuses and allergies.
Christopher's Original Formulas Sinus Plus supports the sinuses  and allergies and provides nutrients to support the respiratory system.
Supplement Facts
Serving Size: 20 Drops
Servings per container: 57
Shake well before opening. Take 20-40 drops three times a day or as directed by your health care professional. For optimum results take 1 hour before or after meals as to not compete with digestion.
Store in a cool, dry place. Keep out of reach of children.
Brigham Tea Herb, Marshmallow Root, Goldenseal Root, Horseradish Root, Burdock Root, Parsley Root, Lobelia Herb & Cayenne Pepper.
Also available in Capsule form.
Proudly made in the U.S.A.
Other Ingredients: A base of pure Vegetable Glycerine & Distilled Water.
No added Fillers or Chemicals
Proudly made in the U.S.A.
* This statement has not been evaluated by the Food & Drug Administration. This product is not intended to diagnose, treat, cure or prevent disease.