Description
Sleep Select is a broad spectrum herbal and nutritional formula to help address the different aspects of Insomnia (not being able to sleep). Helps to relax and combat a "racing ming" due to stress and anxiety. Also helps establish healthy circadian rhythms helping you to sleep when you want to sleep.
Recommended amount: 2 capsules 35 to 40 minutes before going to bed or as indicated by your health care professional.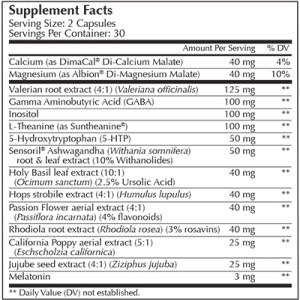 Other ingredients: Capsule (cellulose), microcrystalline cellulose, vegetable stearate, maltodextrin (non-GMO), silica.
AlWAYS KEEP SUPPLEMENTS OUT OF REACH OF CHILDREN.
Keep cap on tight and keep products in a dry and cool place.
Precautions: If taking medications, nursing or pregnant, consult a physician or qualified health professional before taking.