Description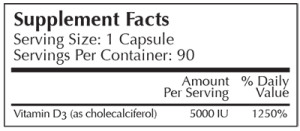 Science used to think vitamin D was only a bone building vitamin. Today studies have shown it's importance in preventing breast, colon and prostate cancer. D3 helps in preventing the incidence of the flu and helps regulate the immune system preventing it from getting too active. Making vitamin D a great support for autoimmune diseases such as Lupus.
Other Ingredients: Cellulose (capsule), microcrystalline cellulose, silicon dioxide, L-leucine.
Usage: 1 capsule per day or as directed by your healthcare professional.
Dosage Form: Vegetarian Capsule
Storage: Keep out of reach of children. Store sealed in a cool, dry place.
Warnings: If taking medication, pregnant or nursing, consult a physician before using.
DISCLAIMER: These statements have not been evaluated by the Food and Drug Administration. This product is not intended to diagnose, treat, cure or prevent any disease.