Description
Zinc Select is not your usual zinc supplement. Zinc select contains the most highly absorbable form of zinc to guarantee efficacy. It has been combined with bitter herbs ginger and gentian increase absorbability even more, Also Betaine HCL has been added to make zinc more soluble and digestible. Taking zinc can cause an imbalance with copper. For this reason copper has been added to prevent copper deficiency.
Recommended Intake: 1 capsule per day or as recommended by a health care professional.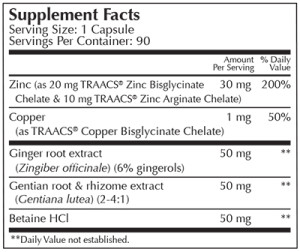 AlWAYS KEEP SUPPLEMENTS OUT OF REACH OF CHILDREN.
Keep cap on tight and keep products in a dry and cool place.
Precautions: If taking medications, nursing or pregnant, consult a physician or qualified health professional before taking.
DISCLAIMER: These statements have not been evaluated by the Food and Drug Administration. This product is not intended to diagnose, treat, cure or prevent any disease.
Other ingredients: Cellulose (capsule), maltodextrin, microcrystalline cellulose, vegetable stearate, silicon dioxide, hydroxypropyl cellulose.