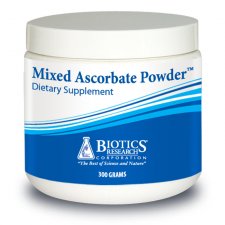 Description
Supplies vitamin C as mixed mineral ascorbates.
Buffered forms which are more "GI friendly" at higher intakes. Consider when higher levels of vitamin C are indicated.
Suggested Usage
One (1) rounded teaspoon (approximately 5 grams) mixed with water or juice each day as a dietary supplement or as otherwise directed by a healthcare professional.
Ingredients
Serving Size: 1 tsp (5 g)
Servings Per Container: 60
Amount Per Serving:
Vitamin C (as mixed ascorbates) 2,800 mg
Calcium (as calcium ascorbate) 200 mg
Magnesium (as magnesium ascorbate) 100 mg
Other ingredients: Mannitol
Warnings
If pregnant, nursing, or taking medications, please consult your healthcare practitioner before use.
Keep out of reach of children.
Additional Information
Store in a cool, dry area.
Sealed with an imprinted safety seal for your protection.
DISCLAIMER: These statements have not been evaluated by the Food and Drug Administration. This product is not intended to diagnose, treat, cure or prevent any disease.